YUCCA & more » YUCCA & more » Botanische Gärten, Exkursionen & Reisen » Blümchen in den Drakensbergen
Seite 3 von 3
#31
RE: Blümchen in den Drakensbergen
von
Tim Behan
29.10.2016 22:10
Finden Sie das Aloe polyphylla!!

My garden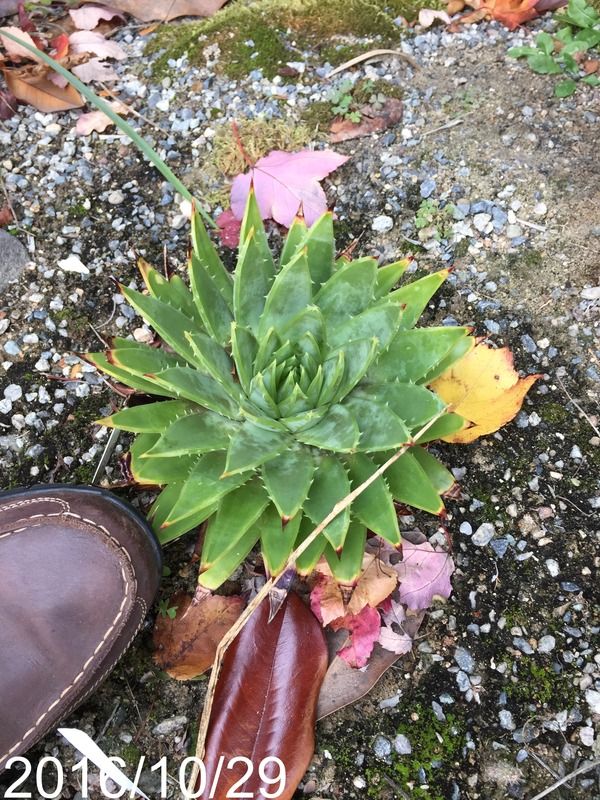 #32
RE: Blümchen in den Drakensbergen
von
janko
29.10.2016 22:18
Hi Tim,whether they remain through the winter outdoors?beautiful Aloe
#33
RE: Blümchen in den Drakensbergen
von
Horst-Ruhrgebiet
29.10.2016 22:18
Hi Tim,

very nice, I crossed my thumbs that it will survive your harsh winter.
#34
RE: Blümchen in den Drakensbergen
von
Tim Behan
29.10.2016 22:21
Dies wird der dritte Winter sein. Ich schütze es mit Minilicht.
#35
RE: Blümchen in den Drakensbergen
von
Juergen B.
29.10.2016 23:29
Zitat von Tim Behan im Beitrag #31

---

Finden Sie das Aloe polyphylla!!

My garden


---
Hi Tim,
congratulations! Looks healthy! Resounding success.
I'll cross my fingers for you, that it will grow in your garden for a long time!
This is indeed encouraging, that one after all should perhaps still try it again!
Here i had the impression that the Spiral Aloe in longer mild phases had begun to grow, and then, standing in full juice in the following freezing period , which is why it is frostbitten. Perhaps - without too much effort - with rain protection and fleece cover for the climate balance it may still work!
Bye,
Juergen
#36
RE: Blümchen in den Drakensbergen
von
Lute
30.10.2016 12:14
Hallo Tim und Alle,

In your very big country, i mean the USA, i saw this one in a nursery in Californië. Aloe with a section of 12 Inches (30 cm)

Here in the Netherlands he can't stay outside in winter. A friend if mine did tried it living nearby the see, there they have a rather mild climate. With protection during the cold season.
He used a grown up plant, a big one. All was going good but after five years the Aloe was becoming black parts here and there and after another two years he died. Still too cold i think.

I do have one in my glasshouse (only in winter) and the size is about the plant you have in the garden.
I am wishing you with that very nice Aloe all the best.

Lute NL
sorry, the lence of my camera was too warm, it was very hot in Cal..

#37
RE: Blümchen in den Drakensbergen
von
Tim Behan
30.10.2016 14:49
Lute,

Ihre Aloe polyphylla ist eine Schönheit! Ich hoffe, meine wächst bald die "Spiraleffekt".
#38
RE: Blümchen in den Drakensbergen
von
Lute
30.10.2016 19:02
Moi Tim, good day to you,
That takes mostly more years than you want. In the beginning many people are thinking they did buy the wrong Aloe, are they did get the wrong seeds.

Lute NL
#39
RE: Blümchen in den Drakensbergen
von
Matthias
06.12.2016 17:14
Zitat von Matthias im Beitrag #23

---

Zum Thema Aloe polyphylla. Samen sind in der Regel teuer und schwer zu bekommen oder aber alt und nicht keimfähig
Hier gibts ein Schnäppchen ; -)
http://www.ebay.de/itm/100x-Mix-Succulen...Q0AAOSwJQdW~ekO

Immer wieder erstaunlich diese Chinaauktionen. Für 1 Euro 100 Korn incl Versandkosten. Wem das zu teuer ist, der sende einen Preisvorschlag ;-)

Was man am Ende aber tatsächlich bekommt bleibt eine Überraschung. Da ist immer alles möglich....vom Kleesamen bis zu echten Raritäten

---
5 Wochen später...das Saatgut für 1 Euro incl Versand kam heute hier an. Bin mal gespannt, um was es sich bei dieser Überraschungstüte tatsächlich handelt. Aloe polyphylla Samen ist es - natürlich- definitiv nicht...
#40
RE: Blümchen in den Drakensbergen
von
johan
07.12.2016 09:30
how about heattolerance of aloe?

lg

johan